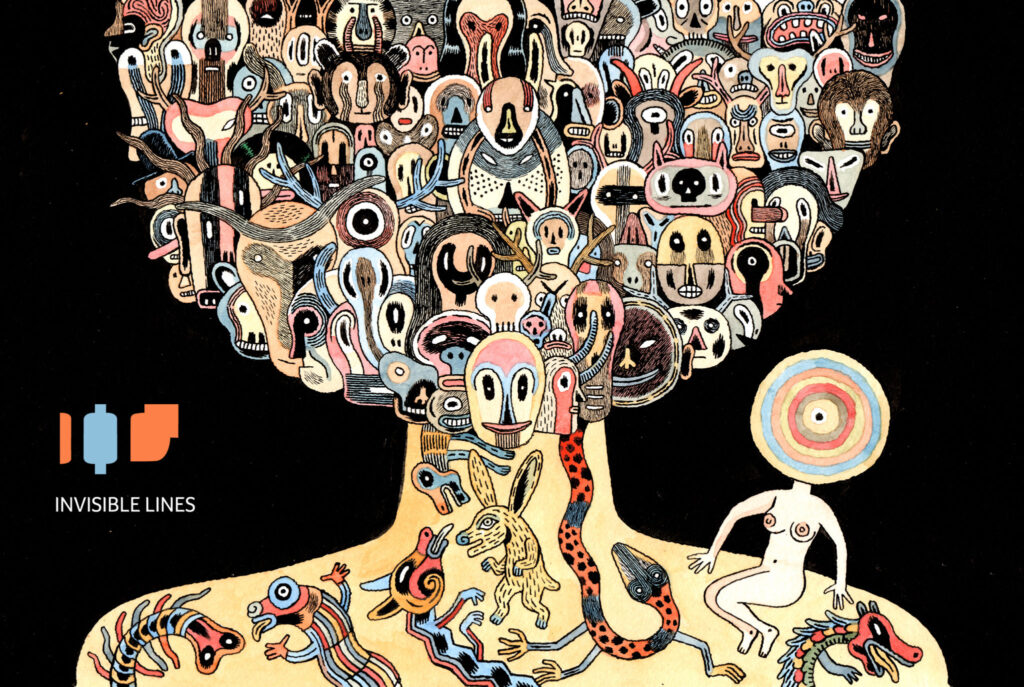 Invisible Lines is an international project on comics, graphic novels and illustrations developed by the Fondazione Giorgio Cini, (Italy – coordinator); Central Vapeur, (France); Hamelin Associazione Culturale (Italy); Baobab&Gplusg s.r.o. (Czech Republic); and co-funded by the Creative Europe Programme of the European Union.
In accordance with the objective of the Programme, this project aims to circulate ideas and artworks, to develop new opportunities for young artists and to enhance the internationalization of the creative sector of illustrations and comics.
Invisible Lines intends to gather young artists from all around Europe, challenging them with inspirational tasks: how to draw the invisible? How to draw the feeling of belonging to a community of people and the people that live on the fringes of our society? How to express the meanings and the tiny everyday rituals that are interwoven in our lives, the habits we inherited from our family, the forgotten reasons that tie us to a place, our faiths and our unanswerable questions?
Visual storytelling can be an important medium of literary, visual and graphic codes to give back or enhance visibility to these hidden realities; on the other hand, we believe that addressing this artistic challenge in a cross-national setting could be a unique opportunity to empower the professionalization of young artists and the internationalization of their careers.
Invisible Lines selected 12 young comic and illustration artists, with a particular focus on their narrative and artistic skills, from across Europe and neighboring countries, that will embark on a journey of discovery through three international workshops, each of them mentored by international comics and illustration masters. This international training will lead them to the creation of original artworks that will circulate in the most important comics festivals in Europe. Each workshop will focus on a different meaning of the "invisible": invisible matters such as the spiritual and religious quest, that were considered to be fading by many intellectuals but which are instead claiming their place in several European countries; invisible matters such as the lives of migrants and refugees, at the center of media representations and yet rarely present with their own stories and voices; invisible matters like the abandoned places that are scattered all over Europe, a result of the ever-changing landscape.
The approach of the workshop will be "from artist to artist", a process of co-creation where mentors will guide the young artists along their own artistic path. Each workshop will be a site-specific experience so as to provide the artists involved with an opportunity for new inspirations and ideas. Guests with different backgrounds will join the workshops, so to begin an inter-sectoral dialogue that could be an inspiring source for their works.
A selection of the original artworks produced during the workshops will be exhibited in the main comic book festivals across Europe: Tabook Festival (Czech Republic), Central Vapeur (France) and BilBOlbul (Italy). After each workshop, a collective work will be produced, to be shared during the exhibitions. A selection of the artworks produced by the artists will be published in a book at the end of the project for dissemination purposes.The project will then host an international conference, held at the Fondazione Giorgio Cini in Venice, where scientific researchers and international artists will both be invited to contribute.