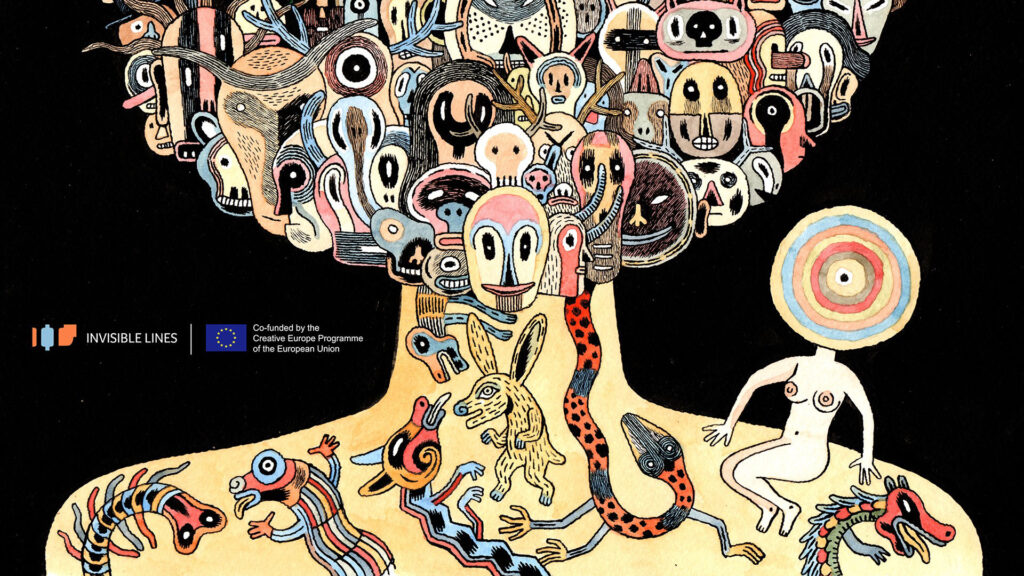 Invisible Lines è un progetto internazionale per promuovere la produzione, la circolazione e l'internazionalizzazione del fumetto, graphic novel e illustrazione. Invisible Lines è cofinanziato dal programma Europa Creativa dell'Unione Europea e gestito da four European partners from the publishing and cultural sector: Fondazione Giorgio Cini Onlus (Italy - coordinator); Central Vapeur (France); Hamelin APS (Italy); Baobab&Gplusg s.r.o. (Czech Republic).
Invisible Lines started in 2020 and was concluded in 2022 (here is a complete timeline).
). In those two years, it gathered 12 young artists from all of Europe, challenging them with an inspirational question: how to draw the invisible?
This question generated an exploration of the many ways in which the invisible can be encountered in ordinary everyday life: from the sense of belonging to the marginalization of minorities, from spirituality to the feeling of connection to a community. The results of this artistic journey were various and different, all brought together using visual stortytelling to make invisible realities visible.
Missions
In accordance with the objectives of the Creative Europe programme, Invisible Lines intended to:
strengthen the competitiveness of the European comics sector, promoting the internationalization of the careers of the artists working within it and the circulation of their artworks in the European market;
safeguard and promote European cultural diversity through the medium of Comics and Illustration.
12 artists on a journey
Invisible Lines selected 12 comic and illustration artists aged between 18 and 30 years old from all European countries through the launch of an open call.
The selected artists embarked on a journey that took them, over the span of three months, to attend three international workshops, each of them mentored by international Stefano Ricci, Juraj Horvàth and Yvan Alagbé.
This international training experience resulted in the creation of original artwork that was showcased thanks to a collective exhibition presented at three of the most important comics festivals in Europe.
The workshops
Each workshop focused on a different interpretation of the idea of invisibility:
Landscapes (Broumov): through the old pilgrimage paths, artists crossed the multi-layered testimonies of the places they walked through;
Revelations (Venice): artists were guided to search for tiny personal epiphanies, exploring the inner dimensions of memory and images creation;
Borders (Strabourg): artists met the stories of young refugees, creating a drawn reportage after listening to their testimonies;
Each workshop was designed as a site-specific experience, in a process of co-creation where mentors guided young artists along their artistic path.
The exhibition
A selection of original artworks produced during the workshops was exhibited in three of the main comics and illustration festivals across Europe:
The exhibited works have been collected in three books published in Italy, France and Czech Republic.
Capacity building
To help artists, illustrators and industry professionals develop new skills in the fields of digital media, audience development and internationalization of the market, Invisible Lines organized a cycle of webinars with marketing and publishing professionals.
The webinars are focused on European copyright rights and digital self-promotion. Recording of the webinars are freely accessible.
Beside the resources for artists, Invisible Lines organized also a dedicated networking event for publishers and cultural operators, to promote the opportunities offered by European cultural institutions to artists, translators and professionals operating in the comics and illustration sector, with a focus on audience development.
Comics and the invisible
The project eventually organized an international conference, held at the Fondazione Giorgio Cini Onlus in Venice, where scientific researchers and international artists were both invited to contribute. Dialogues and speeches held during the conference have been collected in an online publication. Finally, we will publish a special issue in 2023 n the journal Mediascapes. The conference programme included a live-drawing performance featuring musicians Davide Piermatti and cartoonists Stefano Ricci and Manuele Fior.