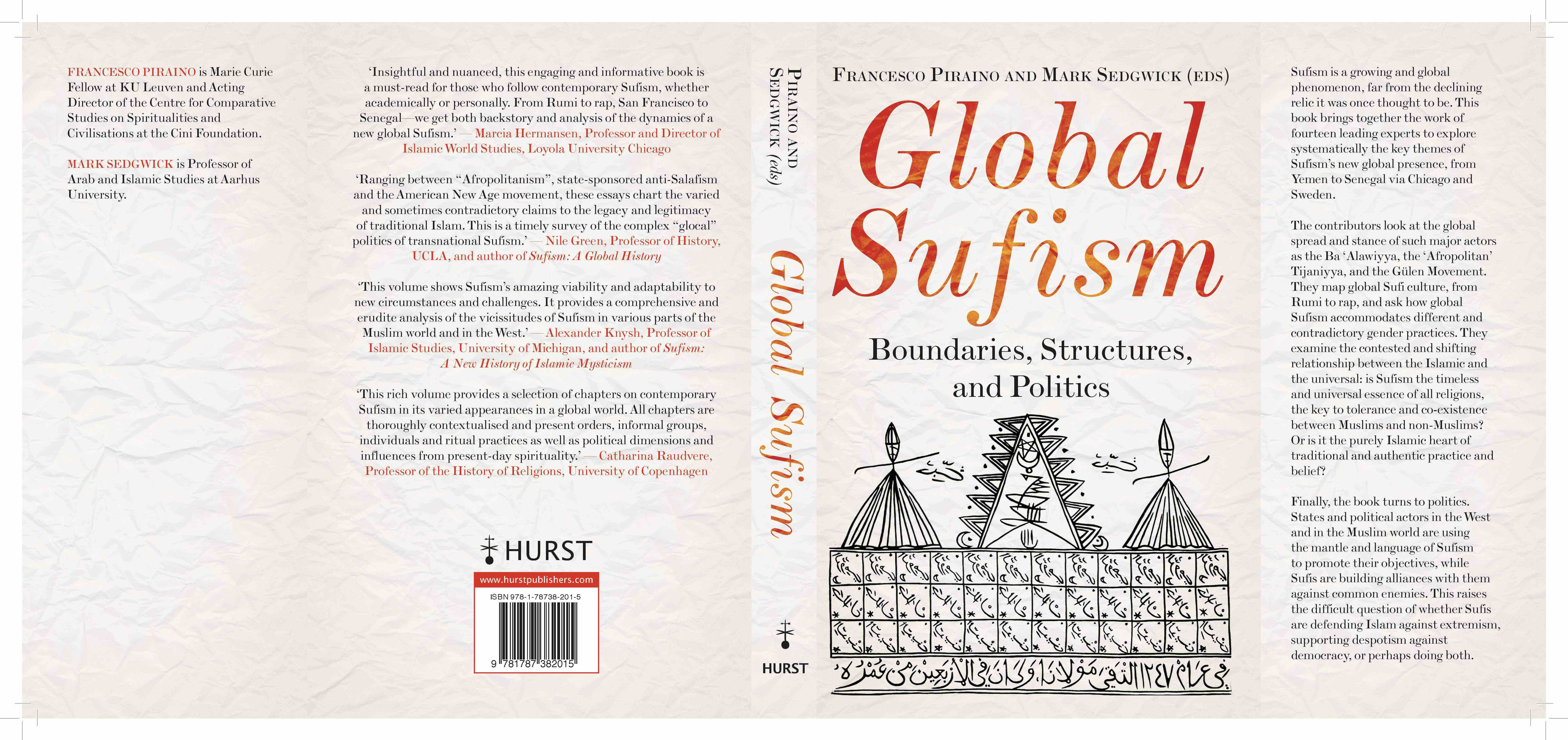 Global Sufism Book Cover ©HURST
I'm thrilled to present to you the book Global Sufism: Boundaries, Structures, and Politics that I co-edited with Prof. Mark Sedgwick. I'm particularly proud because in this book we discuss a range of quite different topics, such as rap, literature, international politics, Sufi doctrines, etc., and because this book possesses a good balance between young and confirmed scholars. Furthermore, this book is based on the first event that I organized at the Cini Foundation  as Director of the Centre for Comparative Studies on Civilisations and Spiritualities, in November 2017. Finally, I would like to thank Rachïd Koraichi for granting the use of one of his works.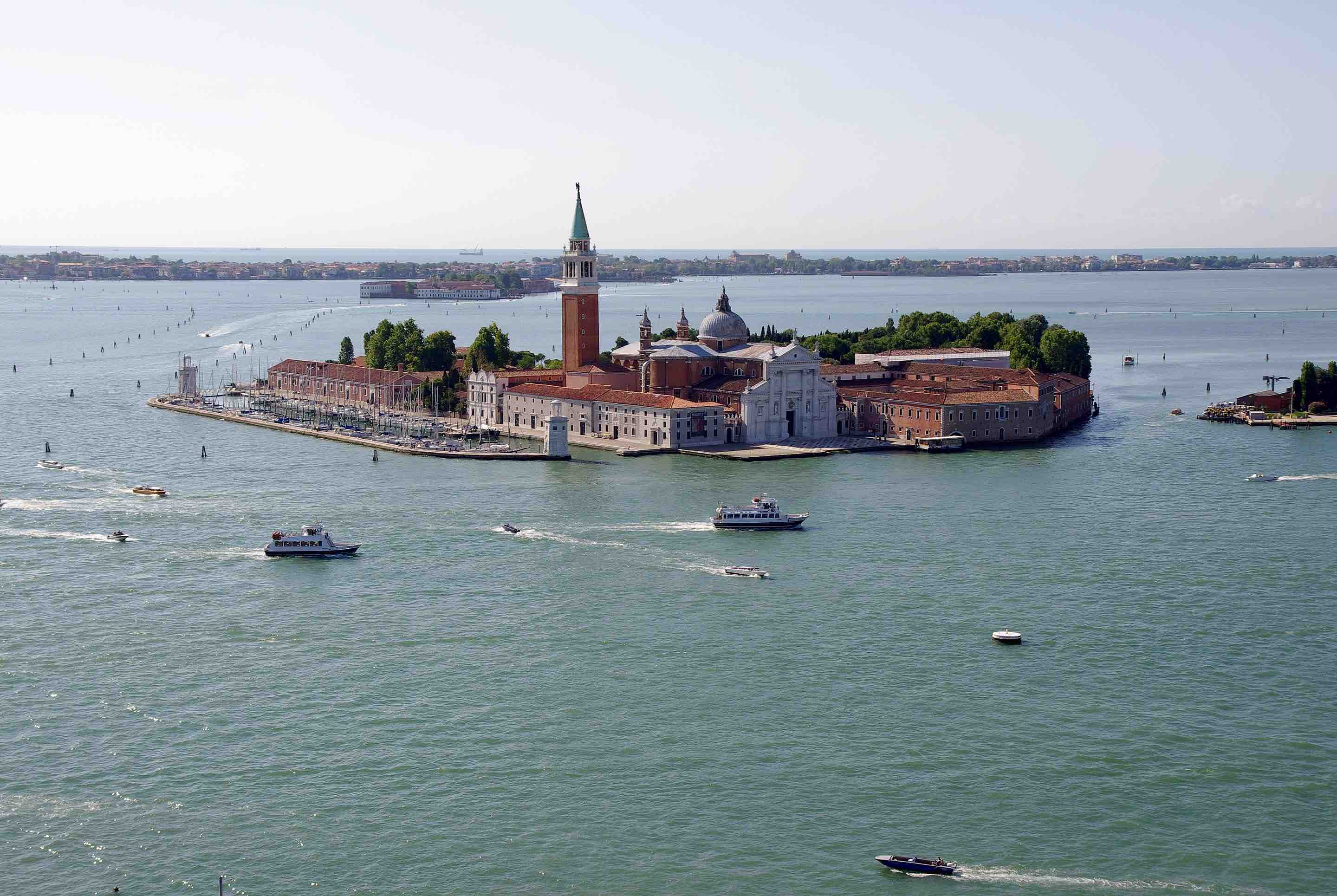 San Giorgio Maggiore Island © Jakub Hałun Wikicommons
On the occasion of the Cini's conference on Transnational Sufism, I invited Shaykh Khaled Bentounes, Sufi Master of the Darqawiyya-Shadiliyya-Alawiyya, one of the most important Sufi orders in the Mediterranean area. The idea was to have a few hours in which the public could ask questions about Islam and Sufism directly to the Shaykh, as a way to reach a wider public, beyond the academic frame. The participation both in quantity and in quality was quite positive, despite the public transportation strike reducing the numbers of boats (vaporetti) available.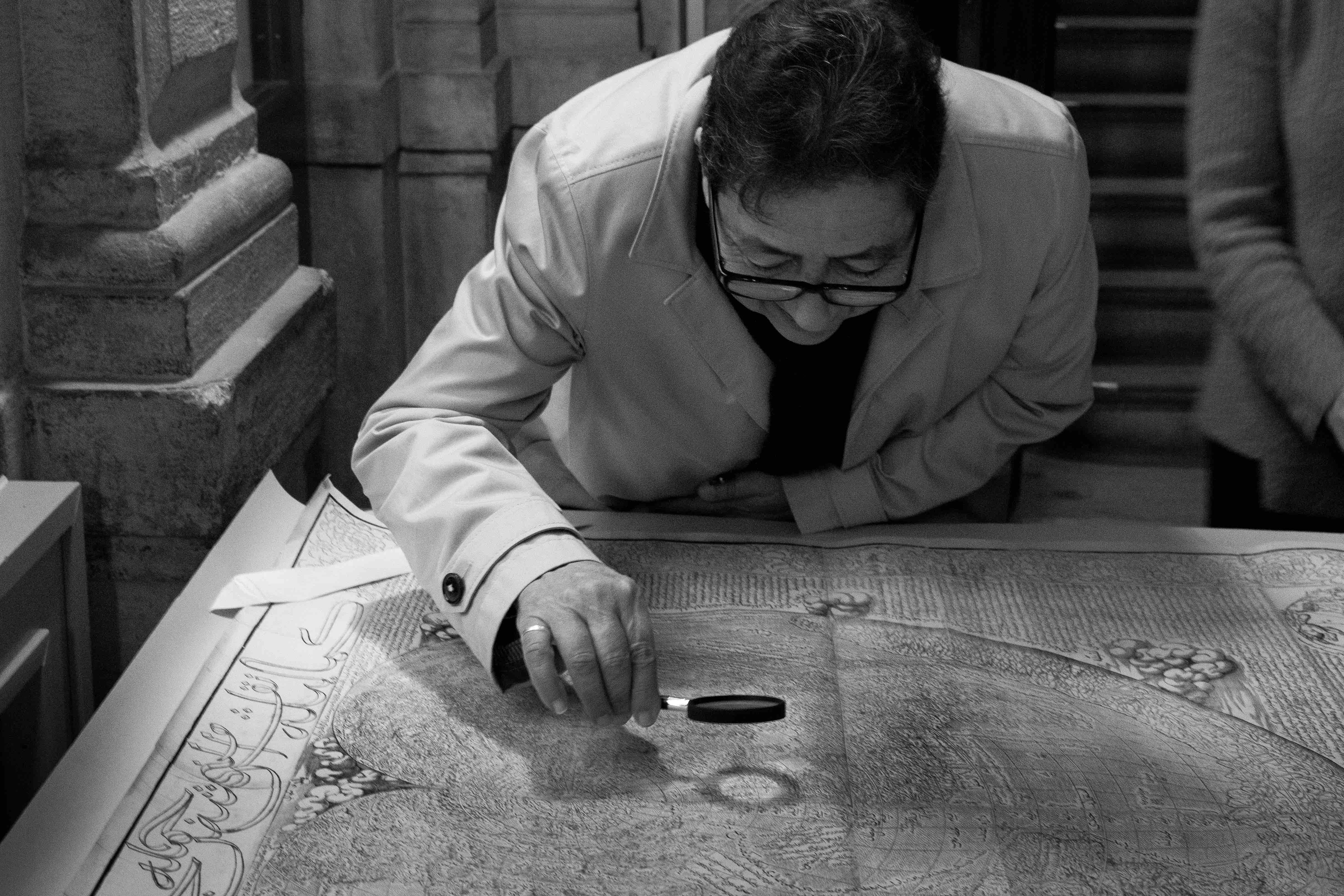 Shaykh Khaled Bentounes © Francesco Piraino
Shaykh Bentounes asked me to visit the Biblioteca Marciana with him so that he could take a look at the famous heart-shaped world map of Hajji Ahmed from the city of Tunis, conserved at the library. This map was engraved in 1559 (967 AH) in Venice on six blocks of wood, in Arabic script and the Ottoman language.
This map interested the Sufi Shaykh not only for its cartographical features and its aesthetic dimension, but also for its exciting story. In fact, around the map there is a narration of Hajj Ahmed's adventurous life. The author of the map describes his studies in Fez (Morocco) and how he was captured by the Franks and later sold to a Venetian. In Venice he elaborated his geographical knowledge and created this masterpiece.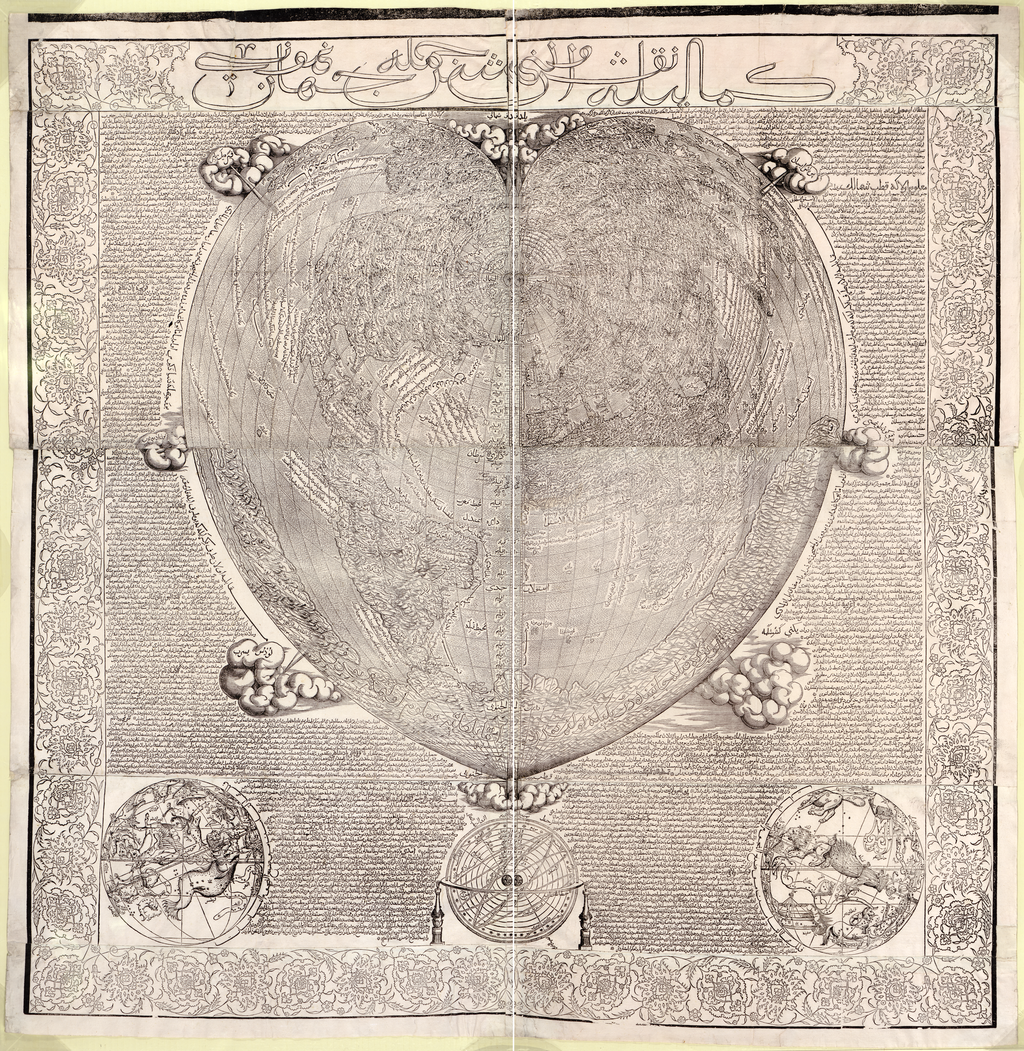 Hajji Ahmed Map © Biblioteca Nazionale Marciana
While we were appreciating and studying the map, one of the curators explained to us, using the file written by Prof. Bellingeri, that the story of Hajji Ahmed was a complete forgery.
There are no historical records about him, and most likely the map was the creation of a Venetian team composed of Giovanni Battista Ramusio (1485-1557), philosopher and geographer; Giacomo Gastaldi (1500-1566), cartographer; Michele Membré (1509-1594), Cypriot dragoman, interpreter and diplomat, who mastered Turkish and Persian; Marcantonio Giustinian (1516-1571), editor and printer;Cristoforo Nicostella da Magonza (?), German engraver; and Guillaume Postel (1510-1581), orientalist, philosopher, and esotericist.
Hajji Ahmed's story was an ante-litteram form of marketing, useful to sell the map in the Muslim world. This is confirmed by the celebration of the Turkish language and by the Islamic piety expressed in the story. A perfect example of the Serenissima's crafty pragmatism, which didn't care too much about religious differences when commerce was at stake.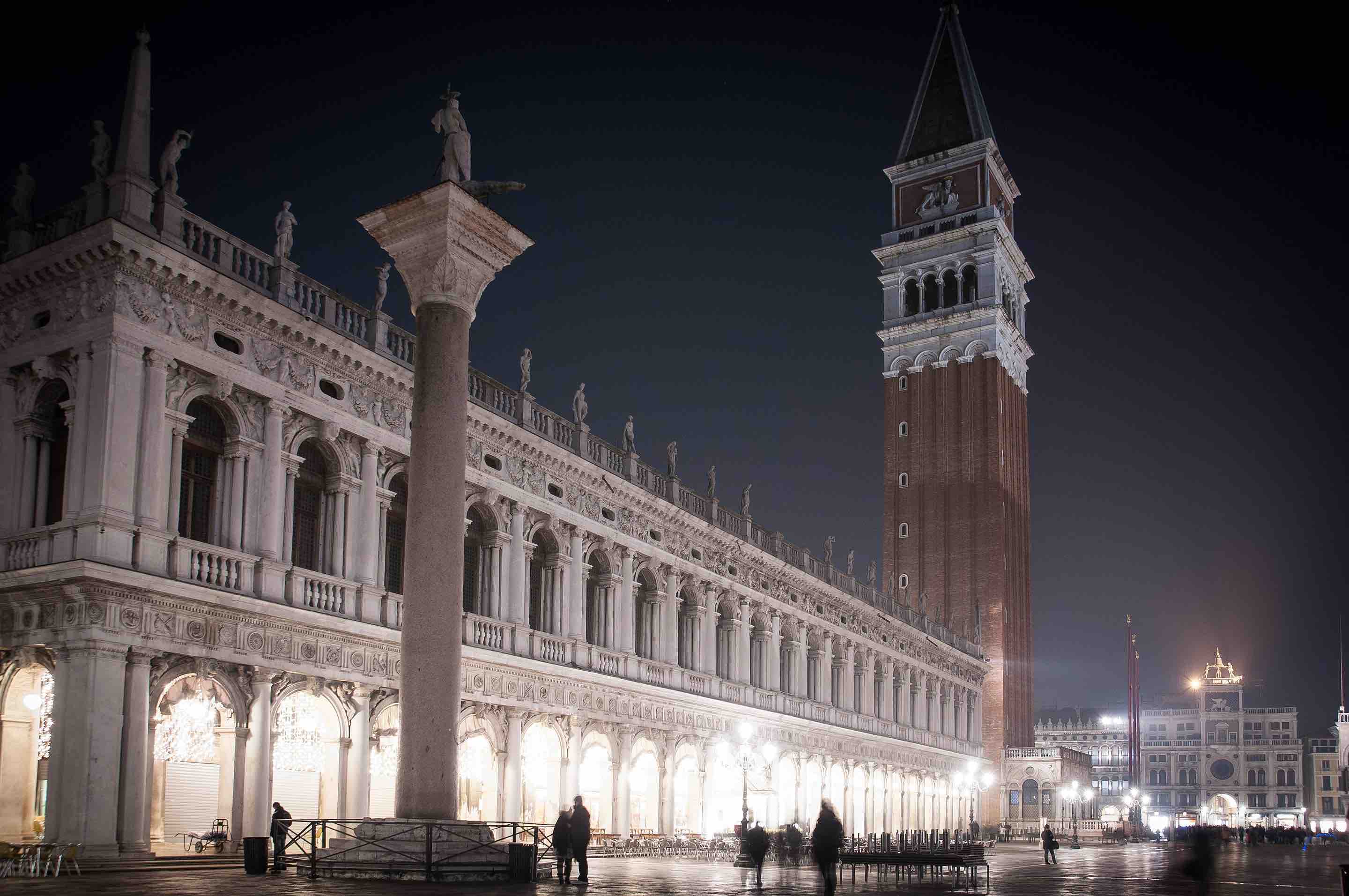 Biblioteca Nazionale Marciana ©Emilio Campanile Wikicommons
It goes without saying that the Sufi Shaykh was a little disappointed by this historical discovery. The pious and adventurous life of Hajji would have been consonant with Bentounes' interests in interfaith and intercultural dialogues.
Coming back from the library, Bentounes told me, trying to hide his frustration in a very Sufi way, "The true is always beautiful even if we don't like it". On the other hand, I was quite happy for the experience; in fact, I learnt something new about my own city, thanks to an Algerian Sufi!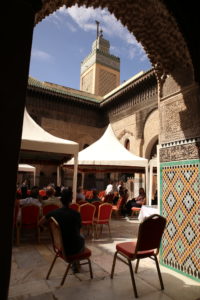 Sufi festivals are mushrooming, influencing how Sufism is perceived both inside and outside Islamic communities. Some of them are financed by national states, others are independent, some express Islamic and Sufi orthodoxy, others represent a universal and de-Islamised knowledge. Hence, it is difficult to generalise about possible common trends. What is certain is that there is a lack of research on this subject.
The most important festivals are:
– Festival de la Culture Soufie in Fez (Morocco) https://www.festivalculturesoufie.com
– Festival des Musique Sacrées du Monde (Morocco) https://fesfestival.com/2019/fr/
– Festival Soufi de Paris (France) https://www.festivalsoufideparis.com
– Sufi Soul Festival (Germany) http://www.osmanische-herberge.de/sufisoul
– Sufi Festival (Scotland) https://sufifestival.org
– Rencontres et musiques soufies – Samaâ (Morocco) (no website)
– Festival Gnaoua et Musiques du monde (Morocco) http://www.festival-gnaoua.net/fr
– World Sufi Spirit Festival Jodhpur (India) http://worldsacredspiritfestival.org
– Sufi Festival (Israel) https://www.desertashram.co.il/sufi-festival/sufi-festival
– Konya International Mystic Music Festival (Turkey) http://mistikmuzik.org/?page_id=1441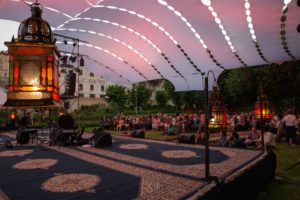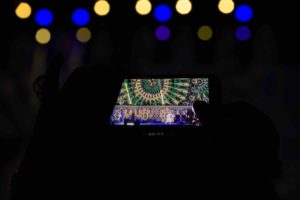 In the last years of research on Sufism in the public sphere, I had the opportunity to attend some Sufi Festivals, such as the Festival des Musique Sacrées du Monde and Festival de la Culture Soufie, both organized in Fez, Morocco. My preliminary thoughts are based on these events and the accompanying pictures were taken there.
The Festival des Musique Sacrées du Monde was founded by the intellectual Faouzi Skali and the politician Mohammed Kabbaj in Fez in 1994. This could be described as the first Sufi festival that influenced all the others. At the beginning of the 1990s, this festival hosted a few concerts of musicians playing sacred music from all over the world; over the years the festival grew in importance, and starting from the 2000s it gained an international reputation, attracting famous artists and thousands of visitors, which has greatly contributed to the touristic development of Fez (Mcguiness).
The dissemination of sacred music was not the only aim of this festival. The political-cultural engagement of the organisers had different aims: on the one hand, the Festival fostered interreligious dialogue by inviting musicians and intellectuals coming from different religious traditions. For example, in 1996 the Philharmonic Orchestra of Sarajevo played their first concert after the Bosnian war. On the other hand, the Festival fostered also a critique of "globalisation" understood as neo-liberal politics and neo-colonialism, a critique that did not reject modernity per se, but called instead for pluralism, ethics and spirituality. The target public is both Muslim and non-Muslim, coming from both Europe and Africa.
I took the following pictures in 2018 at Festival des Musique Sacrée at Bab Al-Makina; the artwork projected on the castle's walls was created by the Sufi artist Rachid Koraïchi.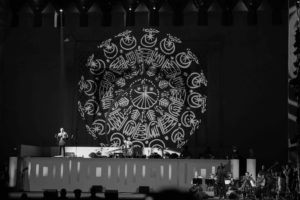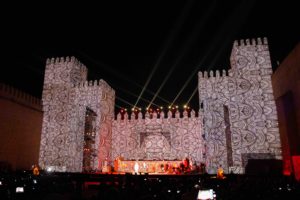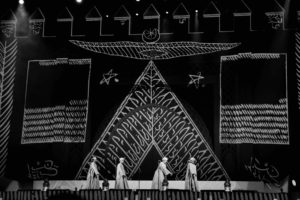 Francesco Piraino, Festival de Musique Sacrées du Monde, Morocco 2018
Faouzi Skali directed the Festival for more than 20 years, while nowadays it is led by Abderrafih Zouitene. The causes of this separation are not known; they could be related to artistic, religious, or political disagreements or to organisational reasons. What is evident is that the new Festival des musiques sacrées without Faouzi Skali (from 2014 onward) is less focused on the spiritual aspect and more on the spectacular dimension of music.
This new Festival is described by Moroccan intellectuals close to Skali as a "socialite event" and as "a machine", underlining how the cultural, political and spiritual engagement are all waning. The spiritual dimension "moved" to another festival, founded in 2007 by Faouzi Skali and held in the medina of Fez: le Festival de la culture soufie. Similarly to the previous festival, this Sufi festival is committed to the diffusion of Sufism among the Moroccan public with the aim of fostering another image of Islam in opposition to the "clash of civilisations".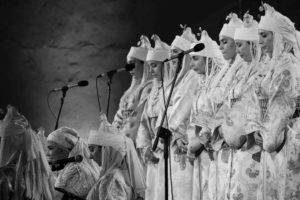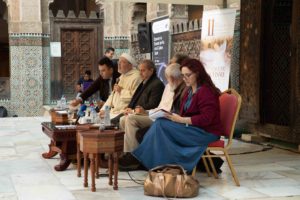 Francesco Piraino, Festival de la culture soufie, Morocco 2018
These festivals allow us to see Sufi and Islamic phenomena from a different angle. First of all, it is evident that nation state powers are interested in promoting Sufism and/or a certain image of Sufism. Sufism is represented as an apolitical, pacifist, and privatised aspect of Islam in opposition to a politicised and intolerant Islamism. A stereotypical representation that is rarely true. Secondly, Sufism is a powerful magnet inasmuch it is a touristic attraction in Morocco, Turkey, India. The "mystical East" attracts many European spiritual seekers, who are also tourists with an important spending power.
The following pictures depict how the state powers "watch over" Sufi events. In the first one, King Mohammed VI and in the second the former Algerian president Bouteflika are present "in absence", overseeing the festivals as portraits.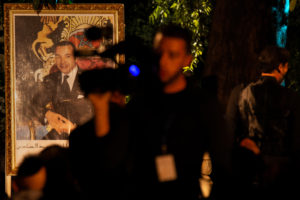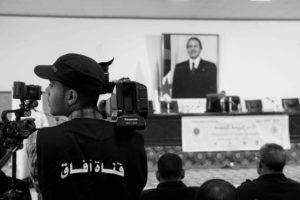 On the other hand, these Festivals develop social and doctrinal changes within Sufism. The most remarkable change is what has been called "post-confrerism" by Eric Geoffroy, that is, the collaboration of different Sufi orders that once were in competition. In fact, in these events we may find Sufis from different orders, such as: Naqshbandiyya-Haqqaniyya, Tidjaniyya, Alawiyya, Budshishiyya. This is probably due to a strong political pressure, both from the Salafis and Islamists denouncing Sufism as a heterodoxy, and from nation states that use Sufism to improve their political control of the religious field. Political pressures that favour a Sufi alliance are expressed also in the organisational aspect of these Sufi festivals.
The second change I would like to describe within contemporary Sufism is what I have called "Inclusive Universalism" (link). It implies the redefinition of the concept of kāfir, which no longer means the "unbeliever", the "atheist", the "polytheist", or in the most exclusive interpretation all those who are not Muslims. The infidel becomes a state of mind; the infidel is the unthankful one: "whoever is not capable of gratitude, who refuses the divine dimension which dwells in all men. Considering oneself superior and better than others is the road to Shayṭān, the one who did not recognize the divine dimension in the human being", as a Sufi disciple told me once.
This openness concerns also atheists, who are considered capable of right behaviour and pious actions, even in the absence of religious faith. Following this perspective, Islam is a universal message of liberation from idolatry, a message of openness to the Other. On the other hand, this does not imply the absence of Islamic particularism, that is, the characteristics that mark Islamic identity and religious norms. In a few words, unlike other forms of Sufi universalism (cf. Idries Shah or Sufi Order International), this universalism does not imply a process of de-Islamisation.
Of course, this "inclusive universalism" is not shared by all the actors that participate in the Sufi Festivals, in fact, there are also some intellectuals and religious authorities that have more conservative views on alterity. Having said that, the most representative intellectuals and religious authorities that attend these festivals would probably fit in the aforementioned category (Shaykh Khaled Bentounes – religious authority, Alawiyya; Faouzi Skali – Moroccan Intellectual, Budshishiyya; Éric Geoffroy – French intellectual, Alawiyya; Abd Al Malik – French artist, Budshishiyya; Abd El Hafid Benchouk – religious authority, Naqshbandiyya; Bariza Khiari – politician, Budshishiyya; etc.).
This inclusive universalism and pluralism is reflected also in the concerts organised, both of religious and "secular" music. The following pictures show the concert of the Moroccan-Jew Gerard Edery in the synagogue of Ibn Danan (Fez) and the jazz concert of the Tunisian Dhafer Yousef with "Sufi influences".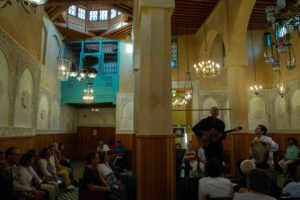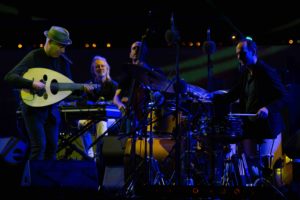 Francesco Piraino, Festival des Musique Sacrées du Monde, Morocco 2018
My last thought on these festivals concerns the spectacularisation of Sufi rituals. The dhikr (repetition of God's name), the samāʿ (Sufi music), the haḍra (ecstatic dance) are performed on scene. It would be too easy to describe this as the commodification of religious practices; in fact, I consider this phenomenon to be more complex than that. The artists / Sufi disciples with whom I talked do not describe these performances as "normal" rituals, nor do they consider them as pure shows for tourists. They represent a liminal religious experience, between the performance and the ritual.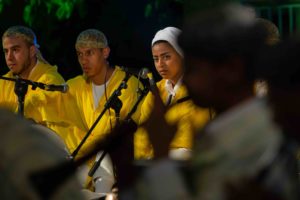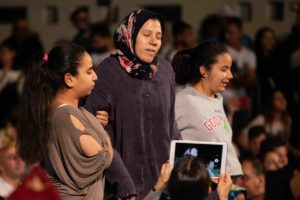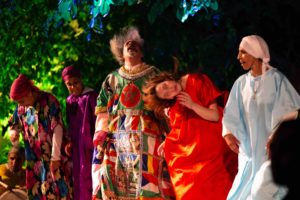 Francesco Piraino, Festival des Musique Sacrées du Monde, Morocco 2018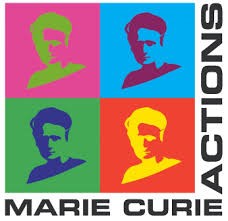 The Sufi renewal of the 21st century, in particular in Europe and the Maghreb, is characterised by charismatic Sufi Masters, considered as "living saints", such as Shaykh Nazim (Naqshbandiyya), Shaykh Hamza (Būdshīshiyya), Muzafer Ozak (Jerrahiyya-Khalwatiyya) and Shaykh Bentounes (ʿAlāwiyya). These Sufi Masters were capable of attracting new disciples from different cultures, ethnicities, social classes, and backgrounds, and gathered thousands of disciples. Finally, this renewed Sufism has started to play an important role in the public sphere.
A specific theology does not match a single political vision, and Sufism is no different. In the history of Sufism, we can read all the possible positions towards society: from the sectarian and militant activism to the ascetic disinterest. In contemporary Sufism, we can find the same plurality of politics.
Having said that, among Sufi orders, a new political and theological tendency has been developed in the last decades. This is what Mark Sedgwick, while describing the Būdshīshiyya in Morocco, called "Sufi counter reformism", which is an alternative politics in opposition to Islamic reformism, that is the array of political and theological positions and organizations, developed between the 18th and the 20th century, such as the Muslim Brotherhood, Salafists, and Wahhabis.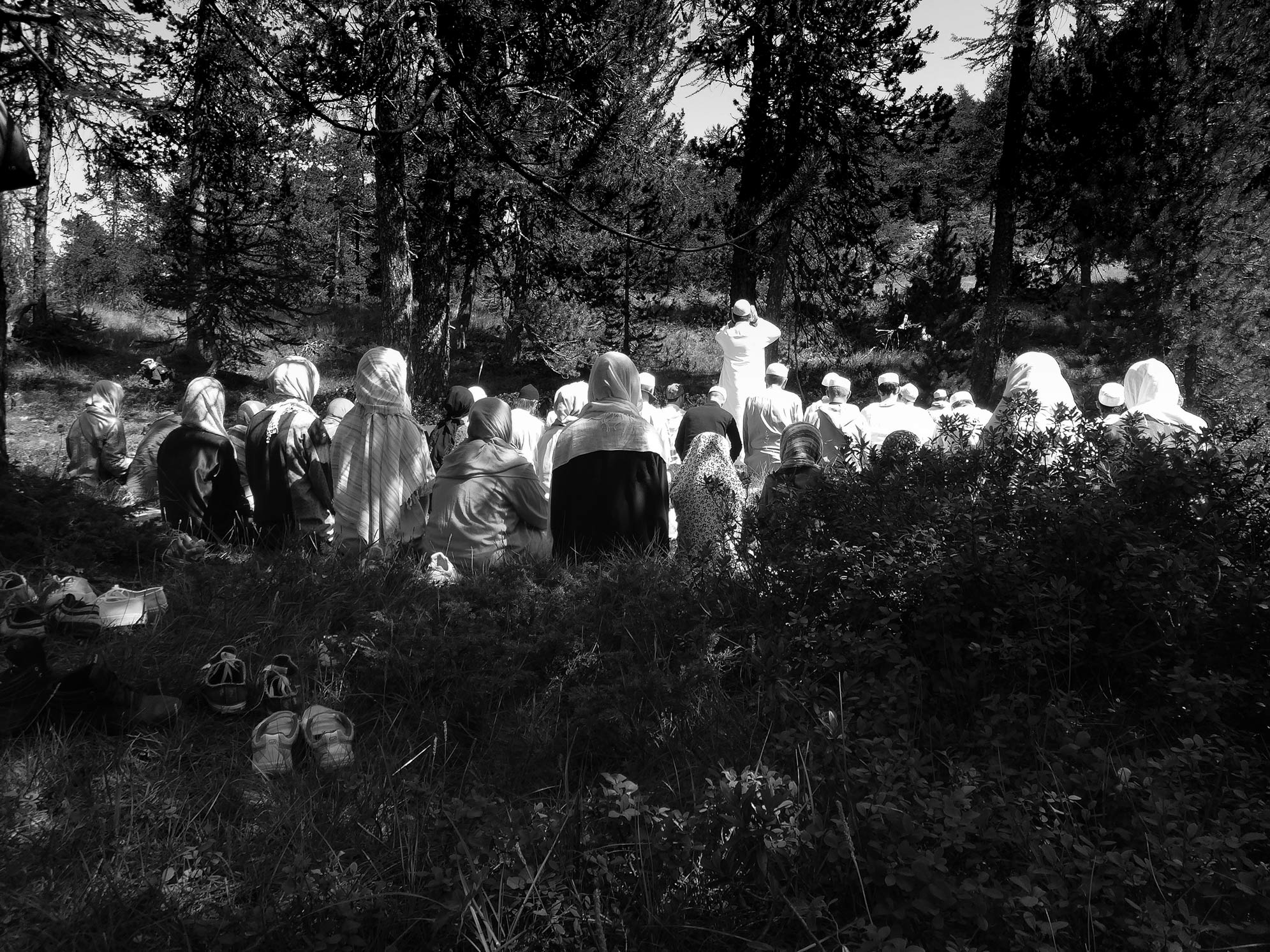 On the other hand, some Sufi orders are not only in opposition to Islamism, but they are pro-active in the public debate. Many Sufi disciples are engaged in the democratic societies (cf. Khaled Bentounes, Éric Geoffroy, Bariza Khiari, Abd Al Malik, and Faouzi Skalli) arguing that not only Islam is compatible with democracy, but that Islam can be of help to our democracies.
Following this perspective, Sufi politics cannot be reduced to exogenous causes, such as the capitulation to "European" values, or the result of a process of secularisation. On the contrary, the driving force behind this commitment is a particular interpretation of Islam and Sufism.
Finally, many Sufi disciples and Masters propose an inclusive universal Islam, in which there is place for religious, ethnic, and gender diversity. The political approach is non-confrontational. These Sufi orders organise interfaith and intercultural meetings, they write books, music and poetries. They are engaged in cultural politics rather than parties.
The democratic engagement of some Sufi orders and their approach raises many questions: what are the relations of these Sufi orders with authoritarian democracies (e.g. Algeria or Morocco)? Is this political approach effective? What is the influence of the European context on politics? What are the theological consequences of this political engagement?
I hope to answer to these questions in the next months and years.
This project has received funding from the European Union's Horizon 2020 research and innovation programme under grant agreement "Sufism, Ethics and Democracy", Project ID 751729.